SHROVETIDE CELEBRATIONS by RUSSIAN, BYELORUSSIANS, OLD BELIEVERS AND BURYAT CULTURES
Day 1
Welcome to Irkutsk- "Paris of Siberia", capital of its great Eastern part –Siberia's Microcosm and the gateway to "Siberia's Pearl" - Lake Baikal!
Upon arrival we meet you with professional bi-lingual guide holding "Baikal Discovery" sign assist with the luggage and provide transfer to your hotel. When checking in at the hotel–enjoy a welcome drink. After having checked in at the hotel and some time at leisure we'll go on a guided sightseeing tour of Irkutsk. During the tour today we'll visit the city's historical center and its most atmospheric sights, including Znamenskaya Orthodox Cathedral, noted for its original iconostasis, grave of the so-called "Russian Columbus" Grigory Shelekhov who was an early Russian explorer of Alaska and graves of the Decembrists-revolutionaries banned to Siberia after an ill-fated attempt in 1825 to overthrow the Russian tsar; we will also have opportunities to take pictures of richly carved old-style wooden houses , see the Monument to Russian Pioneers of Siberia topped by the bronze figure of Alexander-the 3rd , the White House of Siberian Province as well as the central market. Dinner and overnight shall be at the hotel.
Day 2
After breakfast we check out from the hotel and drive to Listvyanka– «the Gateway of lake Baikal» located in the mouth of Angara-river, 62 km away from Irkutsk. En route stop at the holy «obo»- sight of worship by local shamanist believers where following the ancient local customs you'll be invited to "sprinkle some vodka or milk " and tie ribbons on the bushes as if to do offering to the local master-spirits and win them over . Then we enjoy a guided tour of the Taltsy Open-Air Museum of Wooden Architecture–the highlight museum of Irkutsk region, the place for all people to experience the history and traditions of the peoples of Siberia- Buryats, Evenks and Russians. Here we will see how the preparations are done for celebrations of Shrovetide Holiday – Russian called "Maslenitsa". We will also have a chance to take a long and adventurous ride down the ice slide. Then after having tea with pan cakes we shall proceed another 18 km to approach the only outlet of Lake Baikal–the source of the Angara river. Here we stop to take pictures of the Shaman rock associated with many popular legends which your informative guide will tell you about. We will also make a short stop to take pictures of gorgeous landscapes of the Southern part of Baikal with huge water space ahead of you and snow-topped mountains of Khamar Daban Mountain Range on the opposite side of Lake Baikal. After lunch in Listvyanka we shall visit Baikal Ecology Museum besides unique exhibition of Baikal flora and fauna featuring an aquarium with living fresh water seals (the lake's only aquatic mammals) and various Baikal fishes – famous omul of salmon family, sturgeon and more. Then we depart from Listvyanka to Ust Orda – the central town of Buryat National Autonomous District. On the way we'll have one stop near the "obo" – holy place of Buryats where they worship their ancestral spirits. Upon arrival in Ulan Ude - the capital town of - we check in at the local Tourist Class hotel (rooms with amenities) located in the very downtown. Then we shall have a guided visit to the Buryat National History Museum – which one-of-a-kind exhibition unfolds in a truly exciting story about culture and beliefs of western Buryats ( Note: the tour of the museum shall be given by Ludmila Semenova – an expert in and dedicated person to the culture of Buryats). After the tour of museum we shall have a meeting with the well-known shaman who besides introducing some ancient shamanistic cults will be available for discussions about Buryat traditions and beliefs. During the dinner featuring some tasty dishes of Buryat national cuisine we shall enjoy a great folk lore show performed by famous and merited "Stepniye Napevy" Buryat folk ensemble.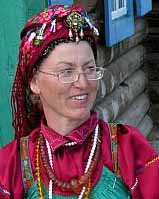 Day 3
"Maslenitsa" or Shrovetide Celebration with Byelorussians.
After breakfast we check out from the hotel and depart to the Lidinskaya village (70 km from Ust Orda) where we shall spend the whole day with Byelorussian families whose ancestors came to Siberia from the Lida area of Byelorussia in early last century and managed to preserve until present time their customs in spite of Stalin's purges and Soviet regime. On the way to Lidinskaya we shall stop at a similar village to visit a small but interesting museum of village Local Lore.
Upon arrival in Lidinskaya village we shall be hosted by local families in their homes ( in cozy and clean wooden houses with carved window shutters; sanitary facilities outside). After introducing the hosts and the guests to each other we shall have lunch of tasty home made village cuisine. Then we shall undertake a walking tour to the snow and ice made figures associated with ancient legends, fairy tales and New Year celebrations. The residents of the village's only 2 streets here traditionally compete in the art of ice-and-snow construction, and we will experience how the village people here on the eve of Shrovetide enthusiastically preserve their old customs. Then we shall visit one of the local households near which the main local Shrovetide celebration shall take place. During the ceremony of Shrovetide celebration you may be well impressed how local village people on their own will and scenario manage to make the Shrovetide ceremony a really interesting show. Your bilingual guide will be there to explain what shall be going on and translate the ditties, amusement scenes performed by both adults and kids.
There will be some funny and entertaining games organized in which the tour participants shall be welcome to take part.
After the show and warm celebrations of the Shrovetide with hospitable Byelorussians we shall depart from Lidinskoye village to the Danilovka retreat lodge. The sight of the retreat lodge once also was a village inhabited by Byelorussians , but in the early 30-s of the last century during Stalin's purges the village people were persecuted, and the village itself destroyed. Now Danilovka retreat lodge is surrounded by the taiga-woods abundant with wildlife. The local governor of Buryat Autonomous National District made the area of Danilovka a protected place and wild life refuge. The retreat lodge is located about 10 km from the main Olkhon highway, the road leading to the lodge is hard to drive by van or average car, so we will change our van for all-terrain vehicles that shall pick us up from the highway and within the next 30 minutes deliver us to the lodge located amidst pristine natural surroundings. Upon arrival at the lodge we check in cozy log cabins (sanitary facilities outside, hot water available), then enjoy dinner of tasty home made cuisine and spend the rest of the evening by the fire-place chatting with our host - local ranger. This evening or the next morning if we go out from the house for a walk we will certainly be able to view the elks, roe-bucks or red deer whom you can approach quite close to take good pictures. Often while having tea inside the house here one can see through the window the deer and elks coming out from the taiga-woods.
Day 4
After breakfast we use another unique opportunity to observe in close vicinity of the retreat lodge wild animals in their habitat. Then we depart from Danilovka retreat lodge to Olkhon Island – the biggest and only inhabited island on the lake. Lunch of tasty Siberian cuisine shall be served in Yelantsy settlement in the family of famous Buryat shaman Valentin Hagdaev (9th-generation hereditary shaman) who besides just being our hospitable host will tell us about the culture of Buryats and their shamanistic practices. After this family visit and lunch we'll proceed further to Olkhon Island crossing on ice frozen Small Gates Strait and within the next 1 hour we arrive in Khuzhir – central settlement on Olkhon. We check in here at the Nikita's Homestead in log-cabins ( toilets inside). Then we shall enjoy visit to much-anticipated banya (bath house) or Russian steam bath and use an opportunity to massage our bodies with birch besoms. The wood-heated banya consists of a changing area on the porch, a preheating area with wooden benches, and the superheated closet where ladles of water are to be splashed to the heated stones (sometimes, red-hot) to form the required layer of scalding steam along the ceiling which can be snatched down for application to backs, buttocks, and thighs by a deft flick of the birch. After the Banya we will have lunch prepared by our host family on the Russian brick-stove and which will feature local delicacies.
Day 5
After breakfast we shall check out from the Nikita's Homestead and then visit Burhan cape where sits famous Shamanka rock – one of the 9 Asian sacred places called " Rock Temple" in the past. The Shaman Rock Temple was once visited by the Dalai-Lama who had carried on special service near the Altar-of-Rock in a small cave inside the Craig that has some inscriptions in Sanskrit. By the shamanist believers the Cape is regarded to be home of the major of 13 sky deities – Khan Hate– Baabai who came to our Land as a fortune ruler. After visiting the Shamanka Rock where following ancient traditions we tie blue ribbons named "hadag" we shall start our adventure trip on the ice of lake Baikal by Russian made amphibious hover crafts .
First, after getting on board of the hovercraft that can comfortably carry 8 passengers we undertake an interesting trip to the northernmost point of Olkhon- the Cape of Khoboy (meaning "Fang") to the Ice Grottoes of Olkhon. The cape which rocky shape reminds of a female's head with bust is located in the widest part of Lake Baikal and features great echo effect, and is also regarded by the shamanist believers as a sacred spot. This place providing great vistas of Baikal water surface with views of eastern and western shores is also a good place for meditation. After visiting the fantastic ice grottoes of Olkhon we'll then proceed to "Baikal Polar Spot". Here everything is prepared for our symbolic opening of the "Baikal Polar Spot " ( above the deepest spot of Lake Baikal -1647 meters deep). Standing above the Baikal Polar spot we arrange a special procedure which will be nice surprise for the tour participants. Also here we shall have our lunch as picnic on the ice with some champagne and vodka sprinkling.

"Once when we went to Khoboi, the northernmost point of Olkhon Island…I was offered to visit the Virgin Cave. I followed their advice and was awarded with a unique sight. The entrance was adorned with an ornament of ice crystals and icicles, inside there were "crystal chandeliers", fantastically congealing in the blue twilight. Pristine silence reigned in the mysterious cave. It was a bit harder to get into smaller caves. Ice outgrowth entirely covering all the cliffs hid a number of grottoes. To get inside one should lie down on the ice and crawl under the hanging icicles and hemlocks. If succeeding in doing so, you will find yourself in the other world filled with ghostly blue light and crystal pearls. It is an enchanting sight, indeed! Sitting with our back to the rock (it was not always possible to be to our full height) we enjoyed light tinges on the ice crystals being perfectly aware that no film could convey it...."–Alexander Aristarkhov.
Another highlight of the today's trip will be crossing the lake on the way to the eastern shore. En route we'll approach the spot where we may have a chance to see Baikal nerpas – fresh water seals, the lake's only aquatic mammals which still remain a mystery of lake Baikal to be unraveled. With no natural predators other than humans, the seals are precious living symbols of the lake's uniqueness. Claimed to be the world's most unique fresh-water seals they're the cutest, most secretive, and mysterious of marine mammals. If the seals were recently located to be somewhere close to our route then using special techniques of approaching seals we'll sneak to them trying not to disturb and take their pictures.
Then we shall proceed by our hovercraft to Enhaluk Hotel Comlex located on Lake Baikal shore near the delta of Selenga river ( the lake's major inflow) in the area of famous Gap Bay which appeared after 11-Richter scal earthquake in 1864. Upon arrival we check in at the main hotel section in rooms with all amenities. Then we shall enjoy Russian steam bath followed by dinner of Siberian specialties featuring meat-dumplings and smoked omul-fish with salads of tasty Baikal berries.
Day 6
After breakfast we shall experience horse-sleigh ride in the beautiful taiga-woods area enchanted in snow. After lunch we check out from the hotel and depart to Ulan Ude – the capital town of Buryat Republic located at the distance of 170 km from Enhaluk. In the evening upon arrival in Ulan Ude we check in ar Zagan Morin Hotel, then enjoy dinner and overnight at the hotel.
Day 7
We start this tour with a brief sightseeing tour of Ulan Ude including visit to the city's oldest quarters featuring unique wooden carved houses that under the tsar belonged to rich merchants , see the giant sculpture head of Lenin ( monument to Lenin opposite the City hall), other atmospheric sights.
Then we shall drive to the village of Tarbagatay inhabited by descendants of Old Believers (so-called "semeiskiye"). The inhabitants of Tarbagatai make up one of communities of Old Believers living in remote parts of Russia. They broke away from the Russian Orthodox Church in the late 17th century, opposed to reforms in the liturgy; first opposing Patriarch Nikon's reforms in 1653, Russia's Old Believers have suffered brutal repression under the czars and later the commissars. Some Old Believers went abroad to start communities in Europe or America but many more settled in Russia's remote Siberia and Central Asia.
Upon arrival in Trabagatai we'll first visit Old believer's cultural center to meet with Galina Chebonina who runs the center, then we see the folk lore concert performed by local Old believer's choir proud of preserving their identity. During the concert you shall experience the community's choral music, for which it is best known, and the manner of this choral that comes from medieval times, from the Old Russian church singing in which polyphony was of great importance. That means adding a number of inserts in words to the extent that it doesn't sound like Russian anymore, and that the singing sounds like another language: they add so many syllables in order that the melody stretches out.
Besides viewing the folk performance you shall be welcome to participate in some local rituals.
After the performance we shall have lunch in Old Believer family with still lots of singing by the village residents.
After lunch we drive back to Ulan Ude for dinner and overnight at the hotel.
Day 8
After breakfast you will have free time to explore the city on your own. After lunch we shall drive to visit Ivolginsky Datsan (Buddhist Temple) located in a picturesque and peaceful place named Ivolga, 23 kilometres from Ulan-Ude. Upon arrival we shall do a tour of the Datsan accompanied by a monk student "huvarak". The Datsan which was the only Buddhist monastery tolerated by the Communists has around 1,000 Buddha statues, from small ones to 2 meters high. During the tour we'll see a main prayer temple, a Buddhist school Dashy Choihorlin, library, sacred tombs-suburgans, some service buildings and houses for lamas. After touring the Datsan welcome to the restaurant Dangina Yurta for dinner in a round shaped felt yurt with Buryat specialities followed by the folk show. After dinner transfer to the railway station to board the overnight train to Irkutsk.
Day 9
Upon early morning arrival in Irkutsk transfer to the Baikal-Hotel (former Intourist). Breakfast. Then enjoy time at leisure before lunch after which we shall drive . After lunch
visit the cultural center, view & participate in performances of local rituals. Lunch with Old Believer families. Return to Ulan Ude. Free time, evening dinner with concert by local musicians. Overnight train back to Irkutsk.
Believers have a reputation for piety, hard work and abstinence and tend to refrain from smoking and alcohol -- unusual in a country so addicted to tobacco and vodka. An Old Believer himself, Bolonev said he was worried by a decline in the observance of traditional practices like bowing to one's elders and felt the community's revival was hampered by a shortage of people ersed in Old Belief rituals and texts.

Russia: Old Believers
By Sophie Lambroschini
Last month, UNESCO added 28 traditions to its list of Masterpieces of the Oral and Intangible Heritage of Humanity in an effort to prevent their extinction. Russia does not appear on this year's list but was represented on the original 2001 proclamation through the Semeiskie. The Semeiskie have preserved their unique folkloric singing, costumes, and rituals that go back to the 16th and 17th centuries. While the UNESCO designation brought the isolated community much-needed international recognition, the Semeiskie haven't been able to wipe away the social ills that threaten their way of life.
Moscow, 1 December 2003 (RFE/RL)
The Semeiskie were handed another fate, however. They were exiled from Poland to Siberia to help settle the conquered but empty lands and set up farms to feed the local Cossacks working in the silver mines.
In some ways, Chebunina says, Semeiskie singing is a form of Siberian protest song.
"To protest against, let's call it 'traditional' Orthodoxy, the Old Believers began singing religious hymns and songs in one voice and transferred the polyphony to everyday songs -- about love, about evil. Because our village is on the road from Moscow, the Decembrists -- members of secret revolutionary societies whose activities led to the uprising of 1825 against Tsar [Nicholas I] and other exiles spent the night here and left, of course, an enormous number of songs," Chebunina said.
One popular song of their deportation to Siberia goes like this:
"Why have you, cruel fate, brought us to Siberia?
"Not for drunkenness and not for brawling,
"Not for robberies at night.
"We lost our home for being honest Christians,
"We lost our home for being honest peasants."
Despite internal conflicts, the Semeiskie prospered. Until 1950, the local religious school graduated 35 young men every year, experts in the Old Believers' traditional singing. The women passed on from generation to generation the tradition of typical dress and embroidery -- a rich mix of cloth, often from China and India, sable furs, velvet. The men's clothes integrated elements of Polish costumes, such as colorful ribbons.
But then, Soviet atheism destroyed much of the culture. Later, economic hardship further isolated the community.
"Within 10 years, more than 1,000 people have left our village. These are our children who graduate from university and then don't come back," Chebunina said.
Chebunina says the 2001 UNESCO award was a "life saver." She says the first money received through UNESCO channels -- $5,000 -- was invested in an effort to literally break the Semeiskies' isolation. They bought a bus to take the local choir on tour.
With the help of the Russian Culture Ministry, one of the community's 18 choirs is soon to record a CD.
While Chebunina admits the financial contributions are crucial, more importantly, she says, the international recognition helped instill a sense of identity and pride in the community.
"Fifteen years ago, people would hide the fact that they're Old Believers, that they're Semeiskie. They would even be ashamed of it. But now there's a wave of self-identity and of respect for the elders who kept the culture. People now know about it and are proud of it. And in this [respect], of course, [the award] is important because it's one thing to talk about this by ourselves and another thing when there's recognition from a respected international organization like UNESCO," Chebunina said.
Ultimately, however, Chebunina says she doubts this new boost will help stem the community's moral and social erosion.
"I remember that houses didn't have a lock. A stick or a broom in front of the door meant that no one was home. There was no theft. Before, no one drank. There was no drinking, even at weddings. There were no orphanages because people would take the child in. All the problems that society suffers from as a whole also exist among the Old Believers because when people are open to the [outside], they are open to the good and to the bad," Chebunina said.
She says at the very least, families should try to pass on the credo of this hard-working community: "It's shameful to live badly, it's shameful to live in dirt, it's shameful to live poor."
(RFE/RL's correspondent in Ulan-Ude, Alesandr Maltsev, contributed to this report.)